Become an Accident Investigator
Auto & Car Accident Investigator Jobs
Get FREE Info From Schools
Interested in an aviation, boat, car or auto accident investigator job? Learn about all crash investigator careers, average salary, & if it's right for you.
Investigators of accidents are responsible for determining the cause behind collisions of all different kinds. From boats accidents, to car accidents, and even airplane accidents, it is the collision investigator who leads the charge to find out what exactly went wrong.
The chain of events leading up to an accident is very important, and it is the crash investigator's job to put them together. In that respect, he or she is like a story-teller, placing one scene in front of the other to create a large-scale picture or tale that will shed light on the reasons behind an accident.
Accident Investigator Jobs
What Are They Like?
A crash investigator works in a wide variety of areas, but there are different specialties and focuses within the accident department. Some of these include: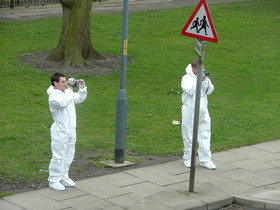 Car Accident Investigators at Scene
Car Crash Investigator - These people study automobile collisions to determine exactly what happened. This could mean the examination of a ten-car pileup on the interstate, or a single car accident on a rural highway.

If there are no witnesses, or the witness testimonies are suspect, the car crash investigator may be called upon to draw some official conclusions.



Marine Auto Accident Investigator - Just as there are car accidents to investigate, there are also ones involving boats and other water-based vehicles.



Aviation Accident Investigator - One of the most important crash investigator jobs is in the aviation department. These investigators are usually employed by the National Transportation Safety Board (NTSB) to determine what happened during an accident involving an aircraft. Because of the brutal nature of such accidents, eyewitness reports are few and far between. For this reason, it is especially important that the aviation crash investigator is called in to figure out what happened.
Salaries for these investigator jobs depend on where and for whom you work. In the public sector, you can expect to make from $50,000 to $60,000 per year (with a topped out salary of about $100,000 annually). But if you choose to work in the private sector, you can make much more than that with experience and hard work.
It takes a certain kind of person to work as an investigator of accidents. These people are detail-oriented, thorough, hard-working, and full of determination and perseverance. If you think you have those qualities, you may just find a home in the world of accident investigation.
Crash Investigator Education
In order to become a crash investigator of any kind, you need to take part in some serious training. This comes in the form of sessions, workshops, internships, and college courses.
Most investigators of accidents positions require a high school diploma and extensive training in the vehicular areas in which they wish to work (marina, car, aviation, etc.).
You have two options for training. Traditional settings and taking courses online.
There are a number of different Internet-based institutions that offer you advanced training in accident investigation. You don't have to move away from home or quit your day job while taking these courses, either. You can create your own schedule and still take care of your family while you begin a new career.
Think a career in criminology is for you?
If you are interested in investigating accidents for a career and want to look into getting your training online, take a look at these great web-based institutions and see what they have to offer:
Kaplan University
DeMontford University
American InterContinental University
Institute of Traffic Accident Investigators
Ashford University
Walden University
Get FREE Info From Schools
Return from Accident Investigator Careers to Investigator Jobs
Return from Collision Investigators to Criminology Degree